Automation Designed to Assure Quality of Service, End-to-End
Smarter software makes network optimization and quality assurance possible in ways never thought possible until now.
ConnXhas developed an advanced HEP/EEP centric real-time packet capture framework, with protocol agnostic indexing and highly scalable scalablecorrelation, media analytics, exporting and customization capabilities for advanced usage, and integrations with 3rd party VoIP/RTC platforms and services.
AI Assure provides Health and Welfare analysis of physical and virtual devices, does correlation of alerts and integrates with industry leading ITSM tools.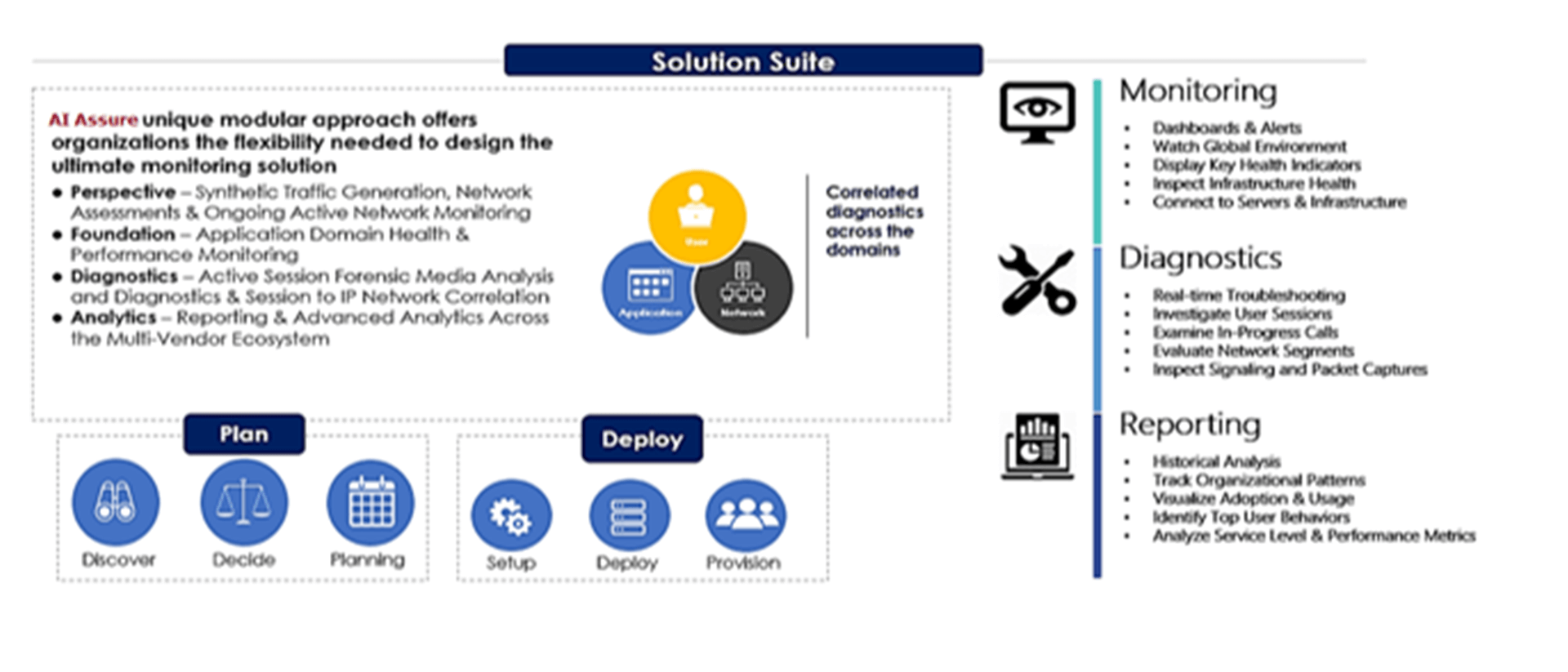 Automation Designed to Assure Quality of Service, End-to-End
AI Assure Monitoring utilizes a lightweight, agentless collector to discover everything in your network automatically.
Get the coverage you need for even the most complex networks – whether resources are on-premises, spread across multiple data centers, or in the cloud.
 Unify multiple monitoring tools and data sources on a common platform. Ingest and harmonize metrics and notifications from across the infrastructure. Work on genuine events and avoid the noise. Here are a few of the benefits.
Noise Reduction: The AI ML Layer tool is fed with millions of events generated. It then compresses and de-duplicates them into thousands of Alerts which are clustered into manageable Situations using machine learning algorithms in a consumable number by end operator.
Bi-Directional Communication: The tool is intelligent enough to communicate with ConnectWise/ServiceNow and update the information whenever changes are made.
Machine Learning: The tool intelligence is built as an operator use the tool in a day-to-day Life and suggest next steps for a possible root cause based on its algorithm.
Virtual War-Room: The Virtual War-room with Teams integration allows the L1 engineer to instantly alert the team when a pressing situation is created. A meeting can then be started by the team if necessary.
Detecting Similar Situations: The tool intelligence will detect similar situations and suggest an operator with information found in data base to ease the work of an operator.
Please register to download more information.